The best golf books available from the Swing Factory.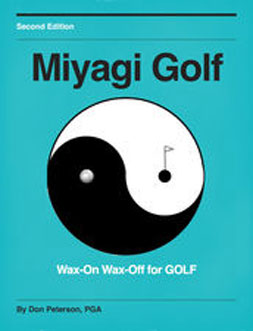 Miyagi Golf is a step-by-step golf swing training system developed by PGA Top 50 Teacher Don Peterson. Author of "Baseball Golf" and "Start Golf Now", Don continues to expand his training concepts that have come from a career spanning more than 30 years. Don's students include major champion Todd Hamilton (2004 Open Champ) comedian Jeff Foxworthy, NFL legend Brett Favre, and many Atlanta area junior golf champions.
• Purchasable Interactive Ebook with video instruction.
Customer Reviews
Nategolfer23
"Exceptional and in depth concept of how to self teach golf in the comfort of your own home. I trained myself how to swing using only a mirror and some props found in my house! Worth the money IMO. "
The Baseball Golf Swing Method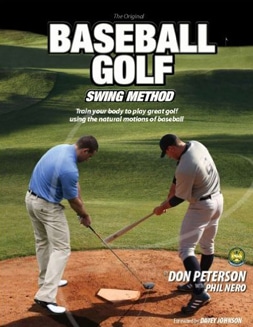 More than 120 pages of golf instruction that will help you build your swing from scratch or re-build a faulty swing. Written by TOP 50 teacher, Don Peterson this heavily illustrated book will give you a step-by-step way to build a better swing.
Train Your Body to Play Great Golf Using the Natural Motions of Baseball by Don Peterson w/ Phil Nero:The Original Baseball Golf Swing Method emphasizes the similarities between baseball and golf swings in presenting a series of precision and power drills to help anyone play better golf. Don Peterson, PGA professional and a popular Atlanta-based teaching pro, based this book on his previously published instructional manual of 27 drills. In this expanded publication, Peterson with writer Phil Nero complied and edited training techniques illustrated with hundreds of photos and graphics. Davey Johnson, formerly of the New York Mets writes in the foreword: "Although this book may not be the first time someone has made [the] connection between the athletic motions shared by baseball and golf, the presentation of concepts, drills and training routines is … the most comprehensive connection yet." The drills take a ground-up approach, beginning with simple weight transfer principles. Baseball-Golf then connects the correct motions of the legs, hips, torso, shoulders, arms, and hands that combine to produce the kind of golf swing golfers desire.
Customer Reviews
CJ Prism
"Very well thought out book. Tons of great illustrations. Great system for training yourself. Best thing is it helped me lower my hdcp from 14 to 11!"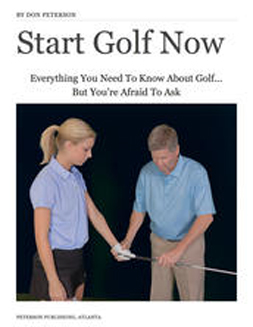 This book helps new golfers avoid those embarrassing moments that sometimes occur when learning the game. Written by Top 50 golf instructor Don Peterson, Start Golf Now shows beginners how to swing the club, make a tee time, drop your clubs, check in the pro shop, practice putt, and even how to drive a golf cart!
• Free Ebook plain text version
• Purchasable Interactive Ebook with video instruction.
Customer Reviews
CJ Prism
"Very good introduction to the game. I was happy to get info on several different aspects of learning golf, including the simple golf training drills. Lots of good advice here."